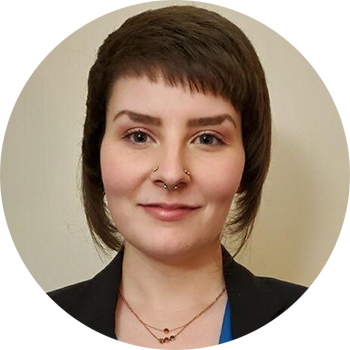 Education
BA in Spanish and Psychology | Saginaw Valley State University
MA in Clinical Psychology | Michigan School of Psychology
Insurance Accepted
Aetna
Blue Cross Blue Shield
Specialties
Type of Therapy
Cognitive Behavioral Therapy (CBT)
Humanistic Therapy
Patient Population
Adults / Older Adults
LGBTQ+
People of Color
Teens
Women
Young Professionals
Issue Focus
Anxiety
Depression
Self-Confidence / Esteem
Relationships
Trauma
Grief and Loss
Mindfulness
Life Transitions
Stress
About Bre Sullivan
Therapy is like an alliance that facilitates self-exploration: the goal is to help you feel happier, less anxious, and more comfortable with yourself. Seeking change through the support of others is the first step towards a life more thoughtfully crafted by your own choices. My motivation as your therapist is to promote your strengths and hold a space where you can openly express yourself while feeling genuinely understood.
I completed my double BA in Spanish and Psychology from Saginaw Valley State University and earned my Master's in Clinical Psychology from the Michigan School of Psychology. I have worked with a wide range of individuals including older adults, adults, teens, women, and individuals who identify with specific communities. The therapy I provide is framed through a Humanistic-Existential mindset that incorporates the larger context of your life and doesn't reduce you to a set of behaviors.
I believe the work of therapy should be as individualized and unique as one's own life. I will base my work with you on a foundation of empathy, unconditional positive regard, and authenticity. I am dedicated to helping you experience a fulfilling and meaningful life.
Unique Approach to Therapy
What makes my approach unique? I am regularly asking for feedback from my patients. How is the treatment going? Are we addressing issues you care about? Do you feel you are making measurable progress? At Start My Wellness, we help people actively engage in making therapy as useful and user friendly as possible. We use this feedback to improve treatment methods, guide therapist training and improve overall customer satisfaction. We believe this patient-centered approach makes Start My Wellness world-class.
Specialized & Extended Training
What makes Bre Sullivan stand out is her high level of education and experience. She, along with all Start My Wellness therapists, attends at least 120 hours of extensive ongoing training and personal development per year in treating anxiety, depression, work stress, and relationship problems. This rigorous instruction differentiates Bre from others in the field and allows her to provide the highest quality of service to patients.
Reviews |
Write a Review >