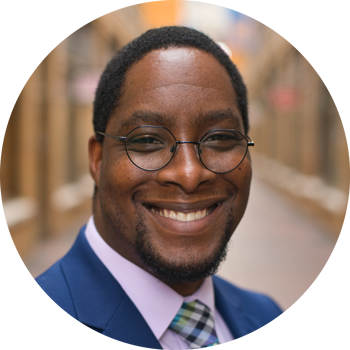 Education
BS in Psychology | Eastern Michigan University
MA in Clinical Psychology | Michigan School of Psychology
Insurance Accepted
Aetna
Blue Cross Blue Shield
Specialties
Type of Therapy
Cognitive Behavioral Therapy (CBT)
Existential-Humanistic Therapy
Patient Population
Adults
Teens
People of Color
Young Professionals
Issue Focus
Anxiety
Depression
Life Transitions
Relationships
Self Confidence
Trauma
Work/Career
About Nosa Obaseki
Are you dealing with anxiety, depression, low self-esteem, relationship issues, work stress, or a difficult life transition? Life can be difficult and sometimes you encounter obstacles that are overwhelming, or you feel under-equipped to handle. You may be struggling and feel like you are alone, but I am here to help. I believe that therapy should be a collaborative experience between the client and the therapist. Therapy is a journey of self-discovery, understanding and acceptance. My job as a therapist is to be your guide on this journey, providing you with the tools to help you become the best version of yourself.
I completed my BS in Psychology from Eastern Michigan University and earned my Master's in Clinical Psychology from the Michigan School of Psychology. My experience includes working with adolescents and adults in an outpatient setting. I approach therapy through an existential-humanistic lens that focuses on a person's culture and life experiences, and not just their thoughts and behaviors.
I believe that effective therapy requires mutual respect and understanding. I am committed to providing a safe space where you feel comfortable sharing your thoughts and feelings, allowing me to better understand your world and lived experiences. My goal is to help you develop better self-awareness so that you can engage in positive change, experience significant growth, and live a more fulfilling life.
Unique Approach to Therapy
What makes my approach unique? I am regularly asking for feedback from my patients. How is the treatment going? Are we addressing issues you care about? Do you feel you are making measurable progress? At Start My Wellness, we help people actively engage in making therapy as useful and user friendly as possible. We use this feedback to improve treatment methods, guide therapist training and improve overall customer satisfaction. We believe this patient-centered approach makes Start My Wellness world-class.
Specialized & Extended Training
What makes Nosa Obaseki stand out is his high level of education and experience. He, along with all Start My Wellness therapists, attends at least 120 hours of extensive ongoing training and personal development per year in treating anxiety, depression, work stress, and relationship problems. This rigorous instruction differentiates Nosa from others in the field and allows him to provide the highest quality of service to patients.
Reviews |
Write a Review >