This post is the second installation of a two part series about beginning therapy. Check out the first post here.
Finding the Right Therapist & Preparing for Your First Appointment
Finding the right therapist can be tough, but fortunately there are some rules of thumb that can help. Many therapists offer phone consultations before setting up an appointment, and this can be a great place to start. Hearing the therapist's voice and being able to ask a few questions can help you get a better idea of who they are and whether they are a good fit for you.
Additionally, spending some time thinking about what you might like in a therapist can help. You may want someone who shares your cultural background, or gender identity. Other questions you might ask include, do you want homework or assignments week to week? A direct approach? Validation of your feelings? Someone who is more chatty or quiet? It is important to consider what helps you feel connected and comfortable. One of my clients recently shared that she decided to work with me because she felt I had kind eyes and this made her feel as though she could be honest with me. Whatever your reasoning, feeling welcome and comfortable is very important.
Therapy is a partnership, so it is important that you can accept your therapist as a teammate. Trust your gut about your interactions but also remember that it can take three to four sessions to get a good feeling for how you and a therapist will mesh. That said, sometimes you have to see two or three folks before finding a therapist that feels right for you. It's okay to let a therapist know you are looking for a different style or fit and are moving in a different direction. We understand this!
There are a few other considerations to keep in mind when preparing for your first appointment. First, it can be useful to spend some time thinking about what you'd like to get out of therapy. Ask yourself about what has been difficult to manage lately, or what you might like to see change in your behaviors or interactions with the world. Second, get ready to be honest– you get out of therapy what you put in. Even if it isn't a pretty truth, it gives you an honest starting point and helps your therapist craft a treatment plan that is for YOU, rather than an illusion of you. Remember that your therapist is not there to judge you, but rather to join you. Lastly, it is completely normal to be nervous before your first appointment. Being willing to tackle tough topics and dig into your emotions is brave and takes a lot of commitment.
The First Appointment
So, you've done all the prep work and now it's time for your first appointment. What can you expect? The first appointment, and sometimes the first few appointments, often will feel like a "getting to know you" session. There will be questions about your background, mental health history, career/education, support systems, and the like. Information about confidentiality and payment or billing policies are also likely to be discussed. Some therapists will also ask you about your goals for therapy. If you aren't sure about your goals, that's okay! You can work on setting them together.
During session (or after– multitasking can be tough!), it is important to check in with yourself regarding how you're feeling about your interactions with your therapist. How did you feel in the room with this person? Did you feel accepted and heard? Does this feel like someone you could trust after getting to know them?
It can also be useful to set aside time following your appointment to process your feelings. First appointments can be emotionally challenging at times, as you may not be used to talking about certain topics or thinking about your feelings. Give yourself some space to recharge and reconnect.
Committing to therapy is a big decision, but knowing what to expect and how to prepare can help you get the most out of your experience. In honor of World Mental Health Day, maybe it's time to treat yourself to the gift of therapy.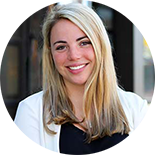 Author: Samantha Voss, MSW, LLMSW
View Therapist's Bio / Schedule Appointment