With the demands of modern life, many of us have moments where the world weighs down on us, and it feels like a solution is just out of reach. Sometimes, traditional therapy isn't enough to overcome these difficulties without further intervention or strategies. 
For many individuals, the best strategy is holistic mental health care that combines therapy with psychiatric medication. While not necessary for all, a tailored approach with both therapy and medication offers a realistic solution, allowing individuals to achieve mental clarity and balance. 
At Start My Wellness, we focus on tailoring treatments to resonate with individual needs. Our team of licensed professionals is here to demystify psychiatric meditation, offer guidance, and provide you the best support for your mental health journey. 
What is Psychiatric Medication?
Psychiatric medication refers to taking prescribed drugs under the provision of a licensed professional to help treat, manage, or alleviate symptoms of mental health disorders or symptoms. 
Many mental health conditions are based on an imbalance of neurotransmitters, the chemicals responsible for brain activity. Neurotransmitters allow communication across brain cells, but they can create adverse symptoms when disrupted. 
Most of these medications alter the distribution of neurotransmitters to restore mental balance, regulate mood, and improve mental functioning.  
What Are the Different Types of Psychiatric Medication?
Generally, psychiatric medication impacts neurotransmitter levels, but each does so in different ways, influencing different mental health conditions. Overall, these are the main types of psychiatric medication: 
Antidepressants:

Used to treat Depression, Anxiety Disorders, Panic Attacks, and Mood Disorders. They primarily work by preventing the reuptake of certain neurotransmitters, such as dopamine and serotonin, allowing them to stay in the brain longer. 

Anti-Anxiety Medication:

Used to alleviate or control anxiety symptoms. 
Stimulants:

Primarily for ADHD, stimulants increase brain activity, helping some individuals focus and decrease hyperactivity (for those without ADHD, these drugs can cause hyperactivity). 
Sedatives: 

Used for Insomnia and Sleep Disorders to help slow down brain activity. 
Mood Stabilizers:

Used to prevent or control mood episodes in conditions like Bipolar Disorder, Schizoaffective Disorder, and severe Depression.

Mood stabilizers help alleviate severe symptoms of Mania and Depression, stabilize mood swings, and prevent symptom relapse. These drugs are also commonly used as anticonvulsants because they calm brain hyperactivity. 

Antipsychotics:

Used to treat conditions such as Schizophrenia, Bipolar Disorder, and Severe Depression to alleviate severe symptoms such as hallucinations, delirium, or dementia. 
Here is a table of the various psychiatric medication categories and their differences. Neurotransmitters are abbreviated as NTs.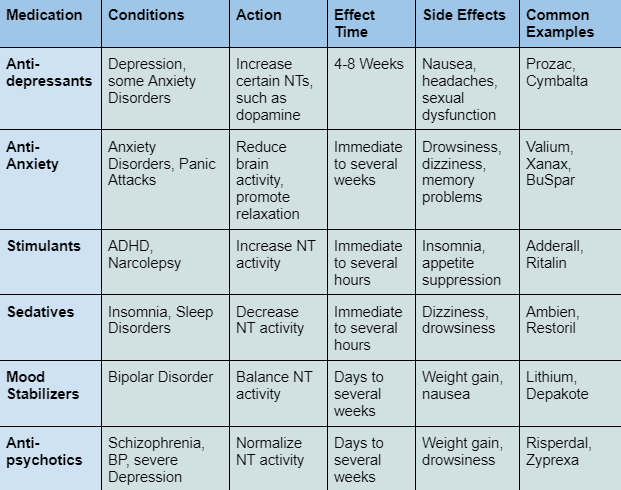 Balancing the Body and Mind with a Tailored Psychiatric Approach
When considering psychiatric medication, it's essential to understand that they don't cure mental health disorders alone. Instead, medication helps manage and alleviate symptoms associated with mental health conditions. 
Medication is most effective when combined with other treatments, such as therapy or counseling. The medicine helps to address chemical imbalances while the therapy provides context for these changes and strategies for living a fulfilling life. 
Not everyone who undergoes therapy requires medication. Each individual is different and requires different treatment, which is why we offer a tailored approach, providing the most appropriate mental health strategies for our patients. 
Additionally, the decision to start, change, or discontinue psychiatric medication should always be made in consultation with a medical professional, as these drugs can have side effects and cross-drug interactions. 
Will I Need Psychiatric Medication?
The decision to use psychiatric medication is based on many factors, primarily the degree to which medications can offer effective relief in combination with therapy. 
Diagnosis of a specific medical condition, such as severe depressive disorder, Bipolar Disorder, or Schizophrenia, contributes significantly to the consideration. However, having a diagnosis doesn't automatically necessitate medication. 
The severity of symptoms plays a crucial role: individuals with severe symptoms that impact daily life, safety, or well-being can benefit most from psychiatric medication. Additionally, if traditional therapy isn't leading to positive change, a combined treatment with medication may offer the best results. 
Ultimately, psychiatric medications are most effective when integrated into a broader treatment plan. This plan may include therapy, lifestyle modifications, and other holistic interventions. Engaging with a licensed counselor gives context to the treatment and ensures lifelong behavior changes. 
The Benefits of Psychiatric Medication
Psychiatric medication has been instrumental in improving the quality of life of countless individuals with mental health disorders. Here are some of the primary benefits: 
Symptom Alleviation:

These medications reduce or alleviate severe and distressing symptoms. 

Improved Daily Functioning:

These medications can enhance an individual's ability to function in daily life. Unsurmountable tasks become manageable. 
Prevention of Recurrence:

Medication in combination with therapy can help prevent future episodes or occurrences of severe symptoms. 
Improved Physical Health:

Mental and physical health are intricately linked. By alleviating symptoms, individuals can also see improvements in physical health, especially with the reduction of anxiety and stress. 
Enhanced Quality of Life:

Beyond symptom reduction, medication offers an improved quality of life, improving emotional well-being, social connections, and daily functioning. 
Potential Drawbacks of Psychiatric Medication
While psychiatric medication offers numerous benefits, it has potential side effects or risks. A healthcare professional should always decide to start, change, or stop medication. 
Individual needs and responses to medications can vary, so personalized care is crucial. Below are some of the considerations for psychiatric medication: 
Side Effects:

All medications have side effects that range from mild to severe. The impact of these effects should be factored into consideration. 

Cross-Drug Interactions:

Psychiatric medications can interact with other drugs. It's essential to work with healthcare professionals who can provide appropriate treatment. 
Over-reliance:

There's a risk that some individuals may view medication as a sole solution, neglecting other vital treatments, such as therapy. 
Withdrawal:

Discontinuing or reducing certain medications without medical guidance can lead to withdrawal symptoms. 
Financial Cost:

Psychiatric medications can be expensive, even with insurance. 
Open communication with a healthcare professional can help navigate these concerns, ensuring that individuals receive the most appropriate and effective care for their specific needs. 
Who Can Benefit From Medication
The decision to use medication is complex and involves the individual's consent and a licensed therapist's approval. Overall, psychiatric medication is the most effective for individuals with mental health conditions who aren't getting sufficient results from traditional therapy. 
Additionally, medication is provided to alleviate severe mental conditions or motor control issues that prevent daily functioning. 
For instance, an individual prone to seizures and nerve pain may receive an anticonvulsant to settle down excessive nerve activity and allow them to engage in everyday activities. 
In these situations, medication is a supplemental treatment alongside therapy. While medication helps balance neurotransmitters in the brain, without appropriate context for these changes, individuals won't get the fullest support they need. 
Medication + Therapy = Better Outcomes
For individuals dealing with mental health conditions, help can seem out of reach, especially when everyday activities are challenging and life seems out of your control.
In these situations, the best treatment is medication plus therapy. Medication helps to balance brain functionality, and therapy provides the context for behavioral changes and a better life. 
At Start My Wellness, we offer medication evaluation and treatment services for individuals in Michigan. Our licensed Psychiatric practitioner team provides medication evaluations within 1-2 weeks of your call and determines an appropriate diagnosis. 
With decades of experience dealing with mental health disorders, they are experts in providing guidance and psychiatric medication if appropriate. 
For more information about our medication services, call our office at 248-514-4955 today! We accept Blue Cross Blue Shield, Aetna, Priority Health, and private pay clients. 
Frequently Asked Questions
Below are frequently asked questions about our Medication Services. 
Can I Combine Therapy and Medication?
Absolutely! At Start My Wellness, we believe in a holistic approach to mental health. Combining therapy and medication can often enhance treatment outcomes. 
Our team of professionals, including therapists and psychiatric nurse practitioners, collaborate to provide integrated care tailored to your needs. 
How Much Does Medication Cost?
The cost of medication can vary based on the type and brand. Your therapist can give you more detailed information following your evaluation, depending on the support you require. 
We accept Blue Cross Blue Shield, Aetna, Priority Health coverage, and private pay clients. For private pay, self-pay sessions are about $150 per session, depending on the therapist. 
How Soon Will I See Improvement?
The time it takes to see improvement depends on the individual and specific medication. Some drugs, especially stimulants and sedatives, can take effect immediately. For more severe conditions, the results generally take longer (up to weeks or months) to balance out brain activity. 
Regular check-ins with our psychiatric nurse practitioners ensure the medication is effective and any necessary adjustments are made promptly. 
How Long Will I Need to Be on Medication?
The duration of medication use depends on the individual and their condition. Some people may only need medication for a few months, while others benefit from longer-term use.

Our psychiatric nurse practitioners work closely with patients to determine the optimal duration and treatment progress. 
What If I Want to Stop My Medication?
If you're ever considering stopping medication, it's crucial to consult with a medical professional first. Abruptly stopping some medicines can lead to withdrawal or a recurrence of symptoms. 
If you consult with us, we'll guide you through the process and ensure that any changes to your medication regime are done safely and effectively.