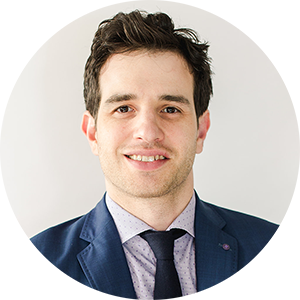 Start My Wellness owner/director Dr. Anton Babushkin made Oakland County's elite 40 under 40! Dr. Babushkin had the following to say: "it is a pleasure to be recognized, but the true story needs to include our excellent administrative team and therapy staff. Mariya Kovalchuk and Vicky Molotok, my administrative collaborators, share a lot of the responsibility for our success. I'm so glad to have them on this journey!"
See press release below
Oakland County Executive's Elite 40 Under 40 Class of 2020 Features Diverse Professionals Impacting Their Communities
PONTIAC, Michigan – An FBI special agent, an Oakland County commissioner, a farmer/ township trustee and a cancer survivor who rose from a part-time deli clerk to become corporate affairs manager for a major grocery chain are among those selected for the Oakland County Executive's Elite 40 Under 40 Class of 2020.
The program, in its ninth year, honors young professionals and thought leaders who live or work in Oakland County and have achieved excellence in their profession. There were about 250 applications and nominations for the class, which was selected by a panel of independent judges.
"We are fortunate to have such passionate and talented leaders who are committed to their professions and improving their communities," County Executive David Coulter said. "They truly are bringing Oakland County together for a more prosperous future. They are a wonderful testament to the diversity and talent in our county."
The class includes FBI Special Agent Nate Knapper, 33; Kristen Nelson, 36, a behavior analyst at Spark Center for Autism who is Oakland County commissioner for District 5; Scott Ruggles, 36, a White Lake Township trustee and also runs an 1,100 acre farm; and Rachel Hurst, a cancer survivor and corporate affairs manager for The Kroger Co. of Michigan.
The class is invited to join Coulter at his inaugural State of the County address on Feb. 12 at the Flagstar Strand Theatre for the Performing Arts in Pontiac where they will be honored at a pre-reception. These are members of the 2020 Oakland County Executive's Elite 40 Under 40 class. Ages listed are as of Jan. 1:
Anton Babushkin Ph.D., Owner and Director, Start My Wellness, 37
Ebony Nicole Bagley, Digital Producer, CBS Detroit, 35
Dustin Barlow, Owner, Nerds Xpress, 32
Josh Barney, Vice President, J.J. Barney Construction, 35
Drew Benson, Assistant to the City Manager, City of Troy, Michigan, 27
Katie Brown, Shareholder, Maddin Hauser Roth & Heller, 36
Kelsey Cooke, Drainage District Legal Counsel, O.C. Water Resources Commissioner, 35
Amber DeLind, Membership Director, The Center for Michigan | Bridge Magazine, 33
Heather L. Farmer, Deputy Finance Director/Deputy Treasurer, City of Auburn Hills, 37
Dandridge Floyd, Assistant Superintendent of Human Resources, Oakland Schools, 37
Tyler Frederick, Reentry Specialist, Oakland County Children's Village, 32
Mark Geary, Director, External Communications/Media Relations, Beaumont Health, 38
Kevin M. Hirzel, Managing Member, Hirzel Law, 38
Rachel Hurst, Corporate Affairs Manager, The Kroger Co. of Michigan, 33
Alan Jaros, Director, Bloomfield Hills Schools, Bowers School Farm, 32
Amber Joseph, Marketing and Public Relations Director, Dutton Farm, 24
Matthew Kidd, Partner, Blunden & Kidd Accounting & Consulting, 29
Courtney Flynn Kissel, Attorney, Dykema Gossett, 37
Nate Knapper, Special Agent, FBI, 33
Deanna J. Kossaras, Intellectual Property Counsel, Harman International Industries, 31
Colleen McClue, Owner, Made in The Mitten Store, 31
Smita Mehta, Community and Engagement Manager, Faurecia, 37
Kristen Nelson, Behavior Analyst, Spark Center for Autism; O.C. Commissioner, 36
Ahmad Nsour, Ph.D., Founder and CEO, Eagle Technology Competence, 39
Nikki O'Donnell, MA, LLP, Psychologist, Viewpoint Psychology and Wellness, 37
Aimee Page, Chief Clinical Officer, Area Agency on Aging 1-B, 32
Dr. Danielle Penson, Owner / CEO, Kaydense Galleria, 38
Jenny Poma, Chief Operating Officer, Lighthouse, 35
Armanda Prendushi-Hadribeaj, Owner, Birmingham Martial Arts, 31
Matthew Prince, Physician, Center for Advanced Orthopedics and Sports Medicine, 37
Brianna J. Romines, President, Epilepsy Foundation of Michigan, 38
Scott Ruggles, Owner, Ruggles Ranch, 36
Tyler Sajan, COO, Safe n Simple, 24
Jason Sweet, Director, Admissions and Outreach, Walsh College, 31
Ralph Thompkins, Owner, S.W.A.G Kids Gym, 34
Nicole Thompson, Police Lieutenant, Oakland University Police Department, 37
Annie Urasky, Director, Dept. of Civil Rights Division on Deaf, DeafBlind and Hard of Hearing, 35
Dominic Vicari, Operating Partner, Joe Vicari Restaurant Group, 35
Whitney D. Weiner, DDS, MS, CEO, Owner, Whole Dental Wellness, 36
Bianca Wilson, Chief Executive Officer, Umbrellex Behavioral Health Services, 36